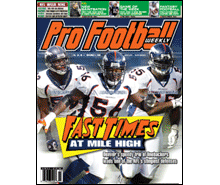 PFW Online: Vol. 21, Issue 17
Published: 2006-10-30
Cover Date: November 6, 2006
This is the issue for Week Nine previews and Week Eight game coverage.
Denver's underrated defense has stars in the secondary and studs up front, but the unit's heart and soul — by design — is the trio of superfast linebackers that includes Al Wilson, D.J. Williams and Ian Gold.
New coach in New Orleans
No team in the NFL needed an infusion of new life as badly as the Saints did. Thus far, it looks as though Sean Payton is giving the franchise exactly what it needed.
Game of the Week
It's always an epic battle when two of the AFC's elite teams — the Patriots and Colts — square off, and there's no reason to believe this time will be different.
Fantasy football
Check out our predictions of sleepers and busts for the second half of the season. They might help save your '06 fantasy campaign.
Mike Wilkening
Jerry Magee
Glenn Dickey
Ron Borges
Departments
The Way We Hear It
Handicapper's Corner
Week Nine game previews
Scout's Notebook: Falcons TE Alge Crumpler
Key college game: Virginia Tech vs. Miami (Fla.)
Canadian Football League
NFL transactions
Week Eight game coverage: NFL standings; game-day review; Players of the Week; Power rankings; Teams on the rise and decline
Week Eight game statistics
Fantasy Buzz
Fantasy statistics
Individual statistics
NFL team statistics
NFL team rankings
NFList: Best first-year offensive coordinators
Audibles
PFW Slant with Dan Arkush
PFW Online
PFW Online is the electronic version of our Pro Football Weekly print newsmagazine.
We publish 30 issues throughout the year, weekly during the season and monthly during the offseason, and these issues are made available to PFW Online members in PDF format.
Since our electronic edition is always available by 7 p.m. ET on the day that it's published, it's your fastest way to get an issue of Pro Football Weekly.
You'll have access to everything in our print edition in the same familiar look and feel, plus a fully-searchable and easy way to enjoy it.