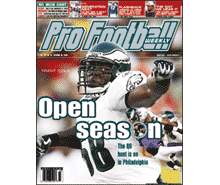 PFW Online: Vol. 21, Issue 16
Published: 2006-10-23
Cover Date: October 30, 2006
This is the issue for Week Eight previews and Week Seven game coverage.
Sack attack!
The Eagles are terrorizing NFL quarterbacks this season, taking passers down with amazing regularity. And the majority of the sacks are coming from their highly productive defensive linemen, thanks in part to an interesting deployment system devised by coordinator Jim Johnson.
Shades of 2000
The Ravens' defense is looking dominant once again, which has some in the fair city of Baltimore comparing this unit to the one that brought home a Super Bowl title in 2000.
49ers strike gold with Gore
San Francisco appears to have found a quality running back in Frank Gore. We analyze the next group of young runners on the verge of making a major impact in the NFL.
If you're looking to improve your roster, the Fantasy Buzz is a must-read. Get trends, tips and analysis that can turn you into a winner this season.
Columnists
Eric Edholm
Barry Jackson
Jerry Magee
Don Pierson
Departments
The Way We Hear It
Handicapper's Corner
Week Eight game previews.
Scout's Notebook: Rams LB Will Witherspoon
Fantasy statistics
Key college game: South Carolina vs. Tennessee
Week Seven game coverage: NFL standings; Game-day review; Players of the Week; Power rankings; Teams on the rise and decline
Week Seven game statistics
Individual statistics
NFL team statistics
NFL team rankings
NFList: Best first-year defensive coordinators
Audibles
Canadian Football League
NFL transactions
PFW Slant with Dan Arkush
PFW Online
PFW Online is the electronic version of our Pro Football Weekly print newsmagazine.
We publish 30 issues throughout the year, weekly during the season and monthly during the offseason, and these issues are made available to PFW Online members in PDF format.
Since our electronic edition is always available by 7 p.m. ET on the day that it's published, it's your fastest way to get an issue of Pro Football Weekly.
You'll have access to everything in our print edition in the same familiar look and feel, plus a fully-searchable and easy way to enjoy it.