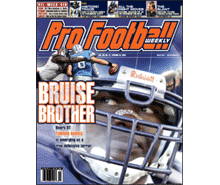 PFW Online: Vol. 21, Issue 14
Published: 2006-10-09
Cover Date: October 16, 2006
This is the issue for Week Six previews and Week Five game coverage.
Interior threat
Bears DT Tommie Harris was selected as a Pro Bowl starter last season. Judging by early indications in 2006, the third-year standout is on the verge of an even better campaign this season. We take a look at who Harris is, and what he means to a dominant Chicago "D."
The building of a contender
It hasn't always been a smooth ride as the Chargers' GM, but A.J. Smith has stuck to his guns, owns an eye for talent and has his club on the rise.
Steelers-Chiefs blockbuster deal
Nearly four years ago, on Draft Day, Pittsburgh and K.C. swapped first-round draft positions, and they each came away with bona fide NFL superstars.
Trade winds are blowing
As the NFL trade deadline approaches, we take a look at the reasons why there has been increased trade activity in recent years.
Columnists
Court E. Mann
Trent Modglin
Jerry Magee
Barry Jackson
Bob Carroll
Departments
The Way We Hear It
Handicapper's Corner
Week Six game previews
Scout's Notebook: Ravens NT Kelly Gregg
Fantasy Buzz
Fantasy statistics
Week Five game coverage: NFL standings; Game-day review; Players of the Week; Power rankings; Teams on the rise and decline
Week Five game statistics
Individual statistics
NFL team statistics
NFL team rankings
Key college game: California vs.Washington State
NFList: Early-season surprise rookies
Audibles
Canadian Football League
NFL transactions
PFW Slant with Dan Arkush
PFW Online
PFW Online is the electronic version of our Pro Football Weekly print newsmagazine.
We publish 30 issues throughout the year, weekly during the season and monthly during the offseason, and these issues are made available to PFW Online members in PDF format.
Since our electronic edition is always available by 7 p.m. ET on the day that it's published, it's your fastest way to get an issue of Pro Football Weekly.
You'll have access to everything in our print edition in the same familiar look and feel, plus a fully-searchable and easy way to enjoy it.