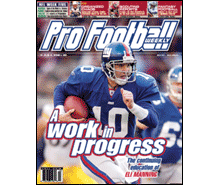 PFW Online: Vol. 21, Issue 13
Published: 2006-10-02
Cover Date: October 9, 2006
This is the issue for Week Five previews and Week Four game coverage.
An in-depth look at special teams
PFW associate editor Eric Edholm breaks down the essential elements of having successful kickoff and punt returns and coverage teams, and then we identify each NFL team's top coverage ace.
Continuing education
Three years into his NFL career, Eli Manning is beginning to come into his own. What are the next steps he will take as he develops into a star quarterback?
Pro prospects preview
NFL draft analyst Nolan Nawrocki breaks down the annual Texas-Oklahoma game, with an eye on which guys will be playing on Sundays next year.
Terrell Owens in news again
Dan Arkush offers his take on the bizarre situation that the enigmatic Cowboys wide receiver found himself in last week.
Columnists
Chris Neubauer
Glenn Dickey
Jerry Magee
Ron Borges
The Way We Hear It
NFList: Best special-teams units
Handicapper's Corner
Week Five game previews
Scout's Notebook: Chargers OG Kris Dielman
Fantasy Buzz
Fantasy statistics
Canadian Football League
Week Four game coverage: NFL standings; Game-day review; Players of the Week; Power rankings; Teams on the rise and decline
Week Four game statistics
Individual statistics
NFL team statistics
NFL team rankings
Audibles
PFW Online
PFW Online is the electronic version of our Pro Football Weekly print newsmagazine.
We publish 30 issues throughout the year, weekly during the season and monthly during the offseason, and these issues are made available to PFW Online members in PDF format.
Since our electronic edition is always available by 7 p.m. ET on the day that it's published, it's your fastest way to get an issue of Pro Football Weekly.
You'll have access to everything in our print edition in the same familiar look and feel, plus a fully-searchable and easy way to enjoy it.