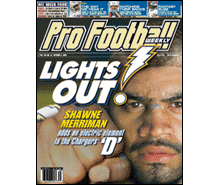 PFW Online: Vol. 21, Issue 12
Published: 2006-09-25
Cover Date: October 2, 2006
This is the issue for Week Four previews and Week Three game coverage.
Energizing force
Shawne Merriman took the NFL by storm in his first pro season, terrorizing members of the opposing offense, recording 10 sacks along the way. Known for his high motor and outstanding work ethic, Merriman has his eye on becoming the best linebacker in league history.
Looking over their shoulders
Thanks to a variety of circumstances — poor play or intriguing backups, for example — a number of QBs could get benched in the coming weeks. We analyze the players perceived to be on the hot seat.
Chief concerns in Kansas City
The defense used to be K.C.'s biggest problem. But now, observers are fretting over the Chiefs' offense.
Fantasy football
There were many concerns entering 2006 about players making comebacks from injury. We examine their early-season progress.
Columnists
Mike Holbrook
Jerry Magee
Barry Jackson
Don Pierson
Tom Danyluk
Departments
The Way We Hear It
Handicapper's Corner
Week Four game previews
Scout's Notebook: Packers S Nick Collins
Fantasy Buzz
Week Three game coverage: NFL standings; Game-day review; Players of the Week; Power rankings; Teams on the rise and decline
Week Three game statistics
Individual statistics
NFL team statistics
NFL team rankings
Key college game: Alabama vs. Florida
NFList: Best coverage linebackers
Audibles
Canadian Football League
NFL transactions
PFW Slant with Dan Arkush
PFW Online
PFW Online is the electronic version of our Pro Football Weekly print newsmagazine.
We publish 30 issues throughout the year, weekly during the season and monthly during the offseason, and these issues are made available to PFW Online members in PDF format.
Since our electronic edition is always available by 7 p.m. ET on the day that it's published, it's your fastest way to get an issue of Pro Football Weekly.
You'll have access to everything in our print edition in the same familiar look and feel, plus a fully-searchable and easy way to enjoy it.