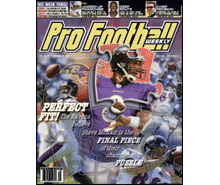 PFW Online: Vol. 21, Issue 11
Published: 2006-09-18
Cover Date: September 25, 2006
This is the issue for Week Three previews and Week Two game coverage.
When the Saints go marching ...
into the Louisiana Superdome on Monday night of Week Three, it is bound to be an emotional event. We take a look at where this franchise is, one year after Hurricane Katrina, and where it's headed.
Dan Snyder has never been restrained when it comes to spending freely on his favorite business — the Redskins. Here's a year-by-year look at the return on his investment.
Cross-country relocation
Deion Branch got his wish and received a one-way ticket out of New England when he was traded to Seattle. How does he fit into the Seahawks' offense?
Is Steve the Ravens' savior?
Baltimore is counting on Steve McNair to lift what has been a subpar offense to a level where the team can compete for a title.
Columnists
Eric Edholm
Mike Wilkening
Jerry Magee
Reggie Rivers
Bill Wallace
Ron Borges
Departments
The Way We Hear It
Handicapper's Corner
Week Three game previews
Scout's Notebook: Jaguars WR Matt Jones
Fantasy Buzz
Fantasy Ask the Experts
Key college game: Penn State at Ohio State
Week Two game coverage: NFL standings; Game-day review; Players of the Week; Power rankings; Teams on the rise and decline
Week Two game statistics
Individual statistics
NFL team statistics
NFL team rankings
NFList: Teams with the best depth
Audibles
Canadian Football League
NFL transactions
PFW Slant with Dan Arkush
PFW Online
PFW Online is the electronic version of our Pro Football Weekly print newsmagazine.
We publish 30 issues throughout the year, weekly during the season and monthly during the offseason, and these issues are made available to PFW Online members in PDF format.
Since our electronic edition is always available by 7 p.m. ET on the day that it's published, it's your fastest way to get an issue of Pro Football Weekly.
You'll have access to everything in our print edition in the same familiar look and feel, plus a fully-searchable and easy way to enjoy it.