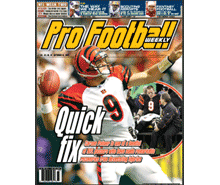 PFW Online: Vol. 21, Issue 10
Published: 2006-09-11
Cover Date: September 18, 2006
This is the issue for Week Two previews and Week One game coverage.
Chad Pennington played in just three games last year, and Daunte Culpepper went down at midseason. Drew Brees injured his shoulder in Week 17, while Carson Palmer's knee exploded in the playoffs. But they were all back in action by Week One. We analyze each one's return to the gridiron.
Searching for pro prospects
Nolan Nawrocki identifies the LSU and Auburn players whom pro scouts will be watching closely, in his first installment of "Key College Game."
Early-season roster help
After the Week One action is said and done, you may be looking for a quick fix for a fantasy football problem that has arisen. "The Fantasy Buzz" will give you an edge.
We've been listening to the chatter around the league, and NFL insiders are dishing on Mike Martz, the Cardinals' running game, Carson Palmer and more.
Columnists
Trent Modglin
Jerry Magee
Barry Jackson
Jim Campbell
Departments
The Way We Hear It
Handicapper's Corner
Week Two game previews and depth charts
Scout's Notebook: Cowboys DL Chris Canty
Rosters for all 32 NFL teams
Week One game coverage: NFL standings; Game-day review; Players of the Week; Power rankings; Teams on the rise and decline
Week One game statistics
Individual statistics
NFL team statistics
NFL team rankings
NFList: Breakout players of 2006
Audibles
NFL transactions
Canadian Football League
PFW Slant with Dan Arkush
PFW Online
PFW Online is the electronic version of our Pro Football Weekly print newsmagazine.
We publish 30 issues throughout the year, weekly during the season and monthly during the offseason, and these issues are made available to PFW Online members in PDF format.
Since our electronic edition is always available by 7 p.m. ET on the day that it's published, it's your fastest way to get an issue of Pro Football Weekly.
You'll have access to everything in our print edition in the same familiar look and feel, plus a fully-searchable and easy way to enjoy it.