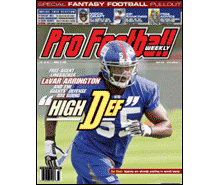 PFW Online: Vol. 21, Issue 07
Published: 2006-08-07
Cover Date: August 21, 2006
This is the second fantasy football issue of the season.
Fantasy football section
The Fantasy Buzz
Ask the Fantasy Doctor
Draft board
IDP rankings
Eight burning questions
Intriguing RB situations
Mock draft
Skill-position value charts
Defenders on the move
Some high-profile players changed teams in the offseason. How will Ty Law, LaVar Arrington and Julian Peterson impact their new teams?
A star on and off the field
Cowboys SS Roy Williams is the winner of this year's Arthur S. Arkush Humanitarian Award.
Executive editor Dan Arkush takes note of the rash of early-season injuries in "The Slant."
Columnists
Jerry Magee
Ron Borges
Reggie Rivers
Departments
The Way We Hear It
2005 and 2006 first-rounders' signing charts
NFL transactions
Canadian Football League
PFW Online
PFW Online is the electronic version of our Pro Football Weekly print newsmagazine.
We publish 30 issues throughout the year, weekly during the season and monthly during the offseason, and these issues are made available to PFW Online members in PDF format.
Since our electronic edition is always available by 7 p.m. ET on the day that it's published, it's your fastest way to get an issue of Pro Football Weekly.
You'll have access to everything in our print edition in the same familiar look and feel, plus a fully-searchable and easy way to enjoy it.