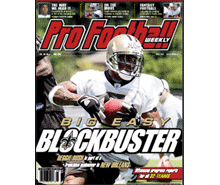 PFW Online: Vol. 21, Issue 04
Published: 2006-06-05
Cover Date: June 2006
This is the offseason team reports issue.
Wideouts run out patterns
Terrell Owens is one of several high-profile wide receivers to move to new teams this offseason. We examine the impact each of these talented, and in some cases high-maintenance, players will have in the 2006 season.
Offseason progress reports
Find out what your team has done and what it has failed to do since the 2005 season ended. We take an in-depth look at all 32 teams and analyze the moves they've made.
We offer our analysis of the potential, from a fantasy football standpoint, of this year's group of rookies.
Flutie, Smith, Chrebet retire
We say goodbye to three NFL veterans who put in years of great service before hanging up the pads.
Columnists
Mike Wilkening
Jerry Magee
Tom Danyluk
Barry Jackson
Don Pierson
Departments
The Way We Hear It
NFL Europe
CFL season preview
Audibles
Arena Football League
NFL transactions
The Slant with Dan Arkush
PFW Online
PFW Online is the electronic version of our Pro Football Weekly print newsmagazine.
We publish 30 issues throughout the year, weekly during the season and monthly during the offseason, and these issues are made available to PFW Online members in PDF format.
Since our electronic edition is always available by 7 p.m. ET on the day that it's published, it's your fastest way to get an issue of Pro Football Weekly.
You'll have access to everything in our print edition in the same familiar look and feel, plus a fully-searchable and easy way to enjoy it.