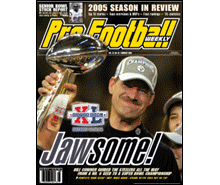 PFW Online: Vol. 20, Issue 30
Published: 2006-02-08
Cover Date: February 2006
This is the issue for the Super Bowl XL coverage and season in review.
Breaking down Super Bowl XL
Game story: Steelers' big plays the difference
Stats: Game summary, lineups and records set
MVP: Steelers WR Hines Ward

Notebook: News & notes from Super Bowl week
Senior Bowl scoop
CB Tye Hill was one of the standouts who impressed NFL scouts at the annual college all-star game.
Which players are free agents?
We offer a position-by-position list of the Class of 2006 free agents — a group that is highlighted by some intriguing running backs.
Top 10 stories
Hurricane Katrina heads up our list of the NFL's biggest stories in 2005.
Final team reports
PFW selects each team's MVP, biggest surprise and biggest disappointment.
Columnists
Mike Wilkening
Jerry Magee
Barry Jackson
Bob Carroll
Departments
The Way We Hear It
2005 team schedules with results
AFC individual statistics
NFC individual statistics
NFL team statistics
NFL team rankings
Arena Football League
NFL transactions
The Slant with Dan Arkush
PFW Online
PFW Online is the electronic version of our Pro Football Weekly print newsmagazine.
We publish 30 issues throughout the year, weekly during the season and monthly during the offseason, and these issues are made available to PFW Online members in PDF format.
Since our electronic edition is always available by 7 p.m. ET on the day that it's published, it's your fastest way to get an issue of Pro Football Weekly.
You'll have access to everything in our print edition in the same familiar look and feel, plus a fully-searchable and easy way to enjoy it.