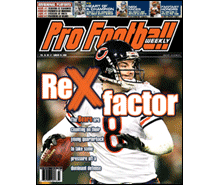 PFW Online: Vol. 20, Issue 27
Published: 2006-01-09
Cover Date: January 16, 2006
This is the issue for divisional playoff previews and wild-card game coverage.
Patience pays off in Chicago
Instead of placing Rex Grossman on injured reserve with a fractured ankle in the preseason, the Bears waited for him to heal. Now in the playoffs, Chicago believes that the young QB can lead its offense to success.
Critiquing the Pro Bowl vote
We asked NFL personnel people for their thoughts on how the annual NFL all-star voting turned out. Find out who deserves his Hawaii trip — and who doesn't.
More than just a name
Champ Bailey has lived up to the lofty expectations the Broncos had when they traded for him in 2004. He's a big part of Denver's return to excellence.
Free-agent jackpot
Joe Jurevicius and Chuck Darby signed in the offseason as free agents, and each has paid big dividends for the Seahawks.
Columnists
Trent Modglin
Jerry Magee
Ron Borges
Bill Wallace
Reggie Rivers
Departments
The Way We Hear It
Feature: The Colts' end to the regular season
Handicapper's Corner
Divisional playoff previews
Fantasy: All-Pro team and early 2006 draft board
Wild-card playoff coverage
Individual statistics
NFL team statistics
NFL team rankings
NFList: 2005 MVP voting
NFL draft order
Audibles
NFL transactions
PFW Slant with Dan Arkush
PFW Online
PFW Online is the electronic version of our Pro Football Weekly print newsmagazine.
We publish 30 issues throughout the year, weekly during the season and monthly during the offseason, and these issues are made available to PFW Online members in PDF format.
Since our electronic edition is always available by 7 p.m. ET on the day that it's published, it's your fastest way to get an issue of Pro Football Weekly.
You'll have access to everything in our print edition in the same familiar look and feel, plus a fully-searchable and easy way to enjoy it.