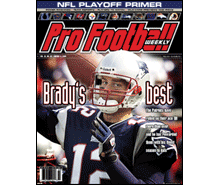 PFW Online: Vol. 20, Issue 26
Published: 2006-01-03
Cover Date: January 9, 2006
This is the issue for wild-card previews and Week 17 game coverage.
Getting better all the time
With changes made to the offensive coaching staff and injuries striking the RB position and the offensive line, the Patriots had to rely on QB Tom Brady like never before. He responded with his greatest season to date.
Playoff reports
We break down the postseason with capsules on all 12 teams, highlighting the state of the offense and defense, players to watch and the keys to success for each club.
Wild-card previews
The first four games of the postseason kick off this weekend in the wild-card round. We break down the action in our ultracomprehensive game previews.
Grading the coaches
In this annual feature, we analyze the job performances of all 32 NFL head coaches and assign each a letter grade.
Columnists
Eric Edholm
Jerry Magee
Barry Jackson
Jim Campbell
Departments
The Way We Hear It
Handicapper's Corner
Week 17 game coverage: NFL standings; Game-day review; Players of the Week; Power rankings; Teams on the rise and decline
Week 17 game statistics
Individual statistics
NFL team statistics
NFL team rankings
NFList
Audibles
NFL transactions
Fantasy 'Ask the Experts'
Fantasy feature: Grading the QBs
Fantasy statistics
PFW Slant with Dan Arkush
PFW Online
PFW Online is the electronic version of our Pro Football Weekly print newsmagazine.
We publish 30 issues throughout the year, weekly during the season and monthly during the offseason, and these issues are made available to PFW Online members in PDF format.
Since our electronic edition is always available by 7 p.m. ET on the day that it's published, it's your fastest way to get an issue of Pro Football Weekly.
You'll have access to everything in our print edition in the same familiar look and feel, plus a fully-searchable and easy way to enjoy it.