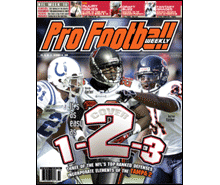 PFW Online: Vol. 20, Issue 24
Published: 2005-12-19
Cover Date: December 26, 2005
This is the issue for Week 16 previews and Week 15 game coverage.
Three of a kind
The defenses of the Chicago Bears, Tampa Bay Buccaneers and Indianapolis Colts rank among the best stop units in the NFL this season. But they share more than just lofty defensive rankings. They also each employ traits of the cover-2 scheme.
We take a look at how injuries have impacted each team this season. We also unveil our All-Injury team and rank the 32 clubs from healthiest to most banged-up.
Previewing the pro prospects
Ohio State's A.J. Hawk is the top-rated linebacker available in next April's draft. Nolan Nawrocki analyzes how the entire LB class will look.
Wonder what's on the list of NFL owners, coaches and players? Dan Arkush plays Santa in this holiday edition of the PFW Slant.
Columnists
Tom Danyluk
Jerry Magee
Barry Jackson
Don Pierson
Departments
The Way We Hear It
Handicapper's Corner
Week 16 game previews
Scout's Notebook: Broncos CB Champ Bailey
Week 15 game coverage: NFL standings; Game-day review; Players of the Week; Power rankings; Teams on the rise and decline
Week 15 game statistics
Individual statistics
NFL team statistics
NFL team rankings
Fantasy Buzz
Fantasy feature: Grading the WRs
Fantasy stats
NFList: Top rookie linebackers
Audibles
NFL transactions
PFW Online
PFW Online is the electronic version of our Pro Football Weekly print newsmagazine.
We publish 30 issues throughout the year, weekly during the season and monthly during the offseason, and these issues are made available to PFW Online members in PDF format.
Since our electronic edition is always available by 7 p.m. ET on the day that it's published, it's your fastest way to get an issue of Pro Football Weekly.
You'll have access to everything in our print edition in the same familiar look and feel, plus a fully-searchable and easy way to enjoy it.