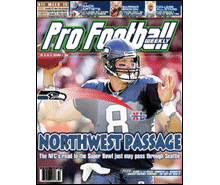 PFW Online: Vol. 20, Issue 23
Published: 2005-12-12
Cover Date: December 19, 2005
This is the issue for Week 15 previews and Week 14 game coverage.
It has been more than two decades since the Seahawks have won a playoff game. But with the NFC's path to Super Bowl XL possibly going through Seattle, this could be the year the Seahawks end the streak.
Unheralded sack masters
While the Michael Strahans and Simeon Rices of the world receive their fair share of attention, many of this year's leading pass rushers aren't nearly as well-known.
Nolan Nawrocki unveils his list of the best players of the 2005 college football season. The all-star team includes QB Vince Young and RB Reggie Bush.
Decades-long drought is over
After two decades of failing to field a 1,000-yard rusher, the Browns appear to have found a keeper in Reuben Droughns.
Columnists
Jerry Magee
Reggie Rivers
Ron Borges
Departments
The Way We Hear It
Feature: The Stretch Run
Handicapper's Corner
Week 15 game previews
Scout's Notebook: Seahawks LB Lofa Tatupu
Week 14 game coverage: NFL standings; Game-day review; Players of the Week; Power rankings; Teams on the rise and decline
Game statistics
Individual statistics
NFL team statistics
NFL team rankings
Fantasy Buzz
Fantasy feature: Grading the TE's
Fantasy stats
Top DL prospects
NFList: Executive of the year
Audibles
NFL transactions
PFW Slant with Dan Arkush
PFW Online
PFW Online is the electronic version of our Pro Football Weekly print newsmagazine.
We publish 30 issues throughout the year, weekly during the season and monthly during the offseason, and these issues are made available to PFW Online members in PDF format.
Since our electronic edition is always available by 7 p.m. ET on the day that it's published, it's your fastest way to get an issue of Pro Football Weekly.
You'll have access to everything in our print edition in the same familiar look and feel, plus a fully-searchable and easy way to enjoy it.