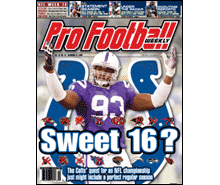 PFW Online: Vol. 20, Issue 22
Published: 2005-12-05
Cover Date: December 12, 2005
This is the issue for Week 14 previews and Week 13 game coverage.
The Colts have whipped through the first three quarters of the regular season with a perfect record. We examine the likelihood of the Colts maintaining that unblemished mark to become the first undefeated NFL team since 1972.
One cool customer
Drew Brees has helped keep San Diego in the playoff hunt for a second straight season, which will force the Chargers to make a big decision next spring.
Coaches on the hot seat
With Steve Mariucci already having been given his walking papers, we focus on the head coaches who could be on the firing line after the season.
Unknown commodity
They may not have many headliners, but the Jaguars keep on winning. With a 9-3 mark, it's time to get to know the least-publicized team in the NFL.
Trench warfare
We continue our weekly series, rating the top college prospects expected to be available for the NFL draft. This week: offensive linemen.
Columnists
Mike Wilkening
Jerry Magee
Barry Jackson
Bob Carroll
Departments
The Way We Hear It
Handicapper's Corner
Week 14 game previews
Scout's Notebook: Cardinals S Adrian Wilson
Fantasy Buzz
Fantasy feature: Grading the placekickers
Fantasy statistics
Week 13 game coverage: NFL standings; game-day review; Players of the Week; Power rankings; Teams on the rise and decline
Week 13 game statistics
Individual statistics
NFL team statistics
NFL team rankings
The Great Debate: Matt Leinart vs. Reggie Bush
NFList: Top run-stuffing D-linemen
Audibles
NFL transactions
PFW Slant with Dan Arkush
PFW Online
PFW Online is the electronic version of our Pro Football Weekly print newsmagazine.
We publish 30 issues throughout the year, weekly during the season and monthly during the offseason, and these issues are made available to PFW Online members in PDF format.
Since our electronic edition is always available by 7 p.m. ET on the day that it's published, it's your fastest way to get an issue of Pro Football Weekly.
You'll have access to everything in our print edition in the same familiar look and feel, plus a fully-searchable and easy way to enjoy it.