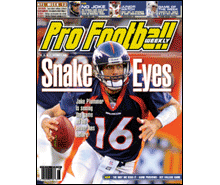 PFW Online: Vol. 20, Issue 21
Published: 2005-11-28
Cover Date: December 5, 2005
This is the issue for Week 13 previews and Week 12 game coverage.
Make no mistake about this Jake
Make no mistake about this Jake. The Broncos gambled on Jake Plummer last spring, picking up an option that triggered the final five years of his contract. The former mistake-prone quarterback hasn't let them down, exceeding all expectations so far.
The third-year head coach of the Bengals has helped transform a downtrodden franchise that was annually the butt of jokes into a real postseason threat.
Game of the Week
The Giants and Cowboys are the class of the NFC East. In this pivotal matchup, New York will seek to avenge its Week Six overtime loss at Dallas.
Scouting the tight ends
Maryland's Vernon Davis, an underclassman, leads a solid class of tight ends expected to be available in next April's NFL draft.
Columnists
Eric Edholm
Jerry Magee
Jeff Reynolds
Glenn Dickey
Chris Neubauer
Ron Borges
Departments
The Way We Hear It
Feature: Pittsburgh's powerful three-headed rushing attack
Handicapper's Corner
Week 13 game previews
Scout's Notebook: Packers LB Nick Barnett
Fantasy Buzz
Fantasy feature: Grading the kickers
Fantasy statistics
Week 12 game coverage: NFL standings; Game-day review; Players of the Week; Power rankings; Teams on the rise and decline
Week 12 game statistics
Individual statistics
NFL team statistics
NFL team rankings
Key college game and notes
NFList: Players past their prime
Audibles
Canadian Football League
NFL transactions
PFW Slant with Dan Arkush
PFW Online
PFW Online is the electronic version of our Pro Football Weekly print newsmagazine.
We publish 30 issues throughout the year, weekly during the season and monthly during the offseason, and these issues are made available to PFW Online members in PDF format.
Since our electronic edition is always available by 7 p.m. ET on the day that it's published, it's your fastest way to get an issue of Pro Football Weekly.
You'll have access to everything in our print edition in the same familiar look and feel, plus a fully-searchable and easy way to enjoy it.