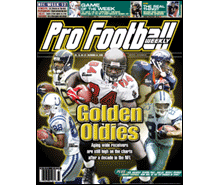 PFW Online: Vol. 20, Issue 20
Published: 2005-11-21
Cover Date: November 28, 2005
This is the issue for Week 12 previews and Week 11 game coverage.
Graybeard wide receivers
More than a decade after entering the league, nearly 20 wide receivers are still getting it done at the highest of levels. PFW takes a look at the contributions of NFL pass catchers with at least 10 years of pro experience.
Immediate impact
The Cowboys find themselves in the thick of the playoff race, and credit needs to be given to a solid crop of rookies who have made an impact from the start.
Contenders or pretenders?
We offer the reasons why there is postseason excitement in Chicago, and then list the reasons why those hopes could be dashed down the stretch.
A glimpse of fantasy's future
Wonder which 2006 rookies will make an instant impact on the fantasy scene? Here are some college players to keep an eye on.
Columnists
Trent Modglin
Jerry Magee
Don Pierson
Barry Jackson
Departments
The Way We Hear It
Feature: Cardinals PK Neil Rackers
Fantasy Buzz
Fantasy statistics
Handicapper's Corner
Week 12 game previews
Scout's Notebook: Panthers CB Ken Lucas
Week 11 game coverage: NFL standings; Game-day review; Players of the Week; Power rankings; Teams on the rise and decline
Week 11 game statistics
Individual statistics
NFL team statistics
NFL team rankings
Key college game and notes
Pro prospects: Wide receivers
NFList
Audibles
Canadian Football League
NFL transactions
PFW Slant
PFW Online
PFW Online is the electronic version of our Pro Football Weekly print newsmagazine.
We publish 30 issues throughout the year, weekly during the season and monthly during the offseason, and these issues are made available to PFW Online members in PDF format.
Since our electronic edition is always available by 7 p.m. ET on the day that it's published, it's your fastest way to get an issue of Pro Football Weekly.
You'll have access to everything in our print edition in the same familiar look and feel, plus a fully-searchable and easy way to enjoy it.