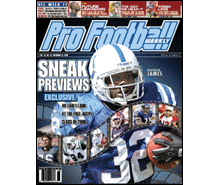 PFW Online: Vol. 20, Issue 19
Published: 2005-11-14
Cover Date: November 21, 2005
This is the issue for Week 11 previews and Week 10 game coverage.
While the start of the 2006 free-agent signing period is still months away, it's never too early to begin evaluating the players who will be available. We take a team-by-team look at what to expect once the bidding begins next March.
What's next for Terrell Owens?
PFW associate editor Eric Edholm examines the options that the NFL's most controversial wide receiver might have next spring.
Sizing up the sophomores
Second-year NFL players are largely hit-or-miss when it comes to fantasy production. We analyze how some young veterans are faring for their fantasy owners this season.
Pro prospects preview
Nolan Nawrocki offers the second installment of his coveted scouting reports, this week analyzing the top RB prospects.
Columnists
Jerry Magee
Bill Wallace
Ron Borges
Reggie Rivers
Departments
The Way We Hear It
Handicapper's Corner
Week 11 game previews
Scout's Notebook: Chiefs RB Larry Johnson
Week 10 game coverage: NFL standings; Game-day review; Players of the Week; Power rankings; Teams on the rise and decline
Week 10 game statistics
Individual statistics
NFL team statistics
NFL team rankings
Fantasy buzz
Fantasy statistics
Key college game and notes
NFList: Top coaches
Audibles
Canadian Football League
NFL transactions
PFW Slant with Dan Arkush
PFW Online
PFW Online is the electronic version of our Pro Football Weekly print newsmagazine.
We publish 30 issues throughout the year, weekly during the season and monthly during the offseason, and these issues are made available to PFW Online members in PDF format.
Since our electronic edition is always available by 7 p.m. ET on the day that it's published, it's your fastest way to get an issue of Pro Football Weekly.
You'll have access to everything in our print edition in the same familiar look and feel, plus a fully-searchable and easy way to enjoy it.