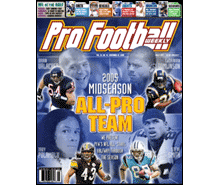 PFW Online: Vol. 20, Issue 18
Published: 2005-11-07
Cover Date: November 14, 2005
This is the Mid-season Awards issue with Week 10 previews and Week Nine game coverage.
There are a lot of new faces on PFW's 2005 all-star squad, with a number of first-time honorees, including Bengals QB Carson Palmer, Panthers OT Jordan Gross, Redskins LB Marcus Washington and Steelers S Troy Polamalu.
There has been no shortage of story lines and subplots so far this season, including the fast start of the Colts, the disastrous hurricane that displaced the Saints and the nightmare season taking place in Minnesota.
Team reports
Tour the NFL at the midway point of 2005, as we take an up-close look at all 32 teams, picking an MVP and top newcomer for each club, in addition to making bold predictions.
Quarterback prospects
Nolan Nawrocki begins his position-by-position series highlighting the top pro prospects for the 2006 draft. First up: quarterbacks.
Columnists
Trent Modglin
Jerry Magee
Barry Jackson
Jim Campbell
Departments
The Way We Hear It
Handicapper's Corner
Week 10 game previews
Scout's Notebook: Steelers TE Heath Miller
Week Nine game coverage: NFL standings; Game-day review; Players of the Week; Power rankings; Teams on the rise and decline
Week Nine game statistics
Individual statistics
NFL team statistics
NFL team rankings
Fantasy Buzz
Fantasy feature and statistics
Key college game and notes
NFList: Most improved players
Audibles
Canadian Football League
NFL transactions
The PFW Slant
PFW Online
PFW Online is the electronic version of our Pro Football Weekly print newsmagazine.
We publish 30 issues throughout the year, weekly during the season and monthly during the offseason, and these issues are made available to PFW Online members in PDF format.
Since our electronic edition is always available by 7 p.m. ET on the day that it's published, it's your fastest way to get an issue of Pro Football Weekly.
You'll have access to everything in our print edition in the same familiar look and feel, plus a fully-searchable and easy way to enjoy it.