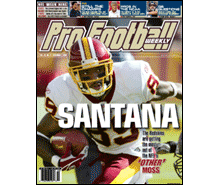 PFW Online: Vol. 20, Issue 17
Published: 2005-10-31
Cover Date: November 7, 2005
This is the issue for Week Nine previews and Week Eight game coverage.
Santana rocks Washington
When the Redskins traded for Santana Moss in the offseason, few thought that he and Mark Brunell would team up to form such a dangerous pitch-and-catch combo. But they are the main cogs in Washington's resurgent offense.
Former NFL coaches are having a big impact at the college level, which in turn winds up having a major impact on the NFL. Nolan Nawrocki explains how.
The loss of an NFL pioneer
Giants owner Wellington Mara was described as the "conscience" of the NFL. We look back at his many contributions over the decades.
Quarterback changes loom
Nearly half of the league's teams will face an offseason of uncertainty at the QB position.We detail each of the teams' options.
Jerry Magee
Glenn Dickey
Ron Borges
Bill Wallace
Departments
The Way We Hear It
Feature: Can the Patriots win another championship?
Handicapper's Corner
Week Nine game previews
Scout's Notebook: Bears RB Thomas Jones
Week Eight game coverage: NFL standings; Game-day review; Players of the Week; Power rankings; Teams on the rise and decline
Week Eight game statistics
Individual statistics
NFL team statistics
NFL team rankings
Fantasy Buzz
Fantasy feature
Fantasy statistics
Key college game and notes
NFList: Top special-teams players
Audibles
Canadian Football League
NFL transactions
PFW Slant with Dan Arkush
PFW Online
PFW Online is the electronic version of our Pro Football Weekly print newsmagazine.
We publish 30 issues throughout the year, weekly during the season and monthly during the offseason, and these issues are made available to PFW Online members in PDF format.
Since our electronic edition is always available by 7 p.m. ET on the day that it's published, it's your fastest way to get an issue of Pro Football Weekly.
You'll have access to everything in our print edition in the same familiar look and feel, plus a fully-searchable and easy way to enjoy it.