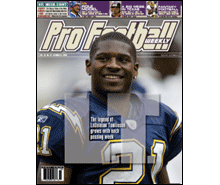 PFW Online: Vol. 20, Issue 16
Published: 2005-10-24
Cover Date: October 31, 2005
This is the issue for Week Eight previews and Week Seven game coverage.
Supercharged in San Diego
He's the most electric of all the Chargers. Anytime LaDainian Tomlinson touches the ball — whether it's to carry, catch or even throw it — he's a threat to make something special happen.
Head coach and father
Tony Dungy may be the most unique coach in the pressure-packed NFL. Instead of sleeping in his office, he makes sure to make time for his family — all while guiding the league's best team.
Houston … we have a problem
The Texans were supposed to be thinking about making the playoffs in their fourth season. Now, they're just hoping to win a game. Can this mess be fixed?
What you talkin' 'bout, Willis?
We got Willis McGahee on the phone to see what's happening in Buffalo. Listen to what he had to say in our exclusive Q&A.
Columnists
Jerry Magee
Chris Neubauer
Trent Modglin
Don Pierson
Barry Jackson
Eric Edholm
Departments
The Way We Hear It
Handicapper's Corner
Week Eight game previews
Scout's Notebook: Bucs DT Anthony McFarland
Key college game and notes
Week Seven game coverage: NFL standings; Game-day review; Players of the Week; Power rankings; Teams on the rise and decline
Week Seven game statistics
Individual statistics
NFL team statistics
NFL team rankings
Fantasy Buzz
Fantasy feature:Winning is based on a team's top three picks
Fantasy statistics
NFList: Top pass-rush specialists
Audibles
Canadian Football League
NFL transactions
PFW Slant with Dan Arkush
PFW Online
PFW Online is the electronic version of our Pro Football Weekly print newsmagazine.
We publish 30 issues throughout the year, weekly during the season and monthly during the offseason, and these issues are made available to PFW Online members in PDF format.
Since our electronic edition is always available by 7 p.m. ET on the day that it's published, it's your fastest way to get an issue of Pro Football Weekly.
You'll have access to everything in our print edition in the same familiar look and feel, plus a fully-searchable and easy way to enjoy it.