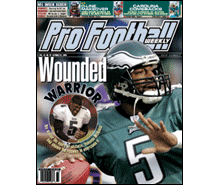 PFW Online: Vol. 20, Issue 15
Published: 2005-10-17
Cover Date: October 24, 2005
This is the issue for Week Seven previews and Week Six game coverage.
Does anything rattle this guy?
Donovan McNabb is no stranger to adversity. He has endured a less-than warm welcome to Philly, some debilitating injuries and, of course, that little spat with T.O. But McNabb has never been pulled down by the distractions.
From Browns to Broncos
Mike Shanahan took some heat for importing Cleveland's underachieving defensive line to Denver. But in light of the unit's surprising play, all critics have been quieted.
On the comeback trail
Last season's injuries to Steve Smith and Stephen Davis seem like distant memories now that the duo has successfully made the transition back to action.
The NFL's worst division
Does a sub-.500 team really deserve to be playing in the postseason? We may see one come out of the NFC North this season.
Columnists
Mike Holbrook
Reggie Rivers
Jerry Magee
Departments
The Way We Hear It
Handicapper's Corner
Week Seven game previews
Scout's Notebook: Seahawks QB Matt Hasselbeck
Key college game and notes
Week Six game coverage: NFL standings; Game-day review; Players of the Week; Power rankings; Teams on the rise and decline
Week Six game statistics
Individual statistics
NFL team statistics
NFL team rankings
Fantasy Buzz
Fantasy feature: Second-half sleepers of 2005
Fantasy statistics
Ask the Experts
NFList: Backup quarterbacks who've made an impact
Audibles
Canadian Football League
NFL transactions
PFW Slant with Dan Arkush
PFW Online
PFW Online is the electronic version of our Pro Football Weekly print newsmagazine.
We publish 30 issues throughout the year, weekly during the season and monthly during the offseason, and these issues are made available to PFW Online members in PDF format.
Since our electronic edition is always available by 7 p.m. ET on the day that it's published, it's your fastest way to get an issue of Pro Football Weekly.
You'll have access to everything in our print edition in the same familiar look and feel, plus a fully-searchable and easy way to enjoy it.