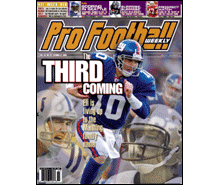 PFW Online: Vol. 20, Issue 14
Published: 2005-10-10
Cover Date: October 17, 2005
This is the issue for Week Six previews and Week Five game coverage.
Bright future in the Big Apple
Everyone knows the accomplishments of his father, Archie, and big brother, Peyton. Now, it appears as if Eli Manning's time to shine in the NFL spotlight has arrived, and he has Giants fans believing the future is now.
Seattle's scoring machine
God, family and football are the first loves of Seahawks RB Shaun Alexander, who has become one of the NFL's most productive and consistent runners.
Working from the bottom up
Practice-squad players may toil in obscurity, but they play a key role for their teams, all the while trying to earn their way on to a 53-man roster.
Expect the unexpected
That would have been wise advice heading into the 2005 fantasy season. We take a look at the most surprising developments.
Columnists
Mike Wilkening
Jerry Magee
Barry Jackson
Bob Carroll
Departments
The Way We Hear It
Handicapper's Corner
Week Six game previews
Scout's Notebook: Falcons RB Warrick Dunn
Key college game and notes
Week Five game coverage: NFL standings; Game-day review; Players of the Week; Power rankings; Teams on the rise and decline
Week Five game statistics
Individual statistics
NFL team statistics
NFL team rankings
Fantasy Buzz
Fantasy statistics
Canadian Football League
NFList: Best all-around linebackers
Audibles
Q&A with Jets DE John Abraham
NFL transactions
PFW Slant with Dan Arkush
PFW Online
PFW Online is the electronic version of our Pro Football Weekly print newsmagazine.
We publish 30 issues throughout the year, weekly during the season and monthly during the offseason, and these issues are made available to PFW Online members in PDF format.
Since our electronic edition is always available by 7 p.m. ET on the day that it's published, it's your fastest way to get an issue of Pro Football Weekly.
You'll have access to everything in our print edition in the same familiar look and feel, plus a fully-searchable and easy way to enjoy it.