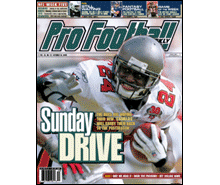 PFW Online: Vol. 20, Issue 13
Published: 2005-10-03
Cover Date: October 10, 2005
This is the issue for Week Five previews and Week Four game coverage.
Fast starts for first-year players
Cadillac Williams has been the poster boy for early-season Rookie of the Year chatter. We look into what he has meant to the resurgent Bucs, and then identify 10 other rookies who've started their pro careers with a bang.
Waiting for the big payoff
When the Raiders made the trade for Randy Moss, they had to be expecting more. While Moss has been contributing, it hasn't exactly helped in the win-loss column.
Fantasy Buzz gives you an edge
We report the latest trends and tips that will help you tweak your fantasy roster into a winner. Our matchups to exploit or avoid is a must read.
Scouts sound off
Read what scouts and front office personnel are saying about the NFL's players and happenings in our exclusive "Audibles" section of "The Way We Hear It."
Columnists
Jeff Reynolds
Nolan Nawrocki
Jerry Magee
Glenn Dickey
Ron Borges
Trent Modglin
Departments
The Way We Hear It
Handicapper's Corner
Week Five game previews
Scout's Notebook: Bears LB Lance Briggs
Week Four game coverage: NFL standings; Game-day review; Players of the Week; Power rankings; Teams on the rise and decline
Game statistics
Individual statistics
NFL team statistics
NFL team rankings
Fantasy statistics
Key college game and notes
NFList: Top No. 2 cornerbacks
Canadian Football League
NFL transactions
PFW Slant with Dan Arkush
PFW Online
PFW Online is the electronic version of our Pro Football Weekly print newsmagazine.
We publish 30 issues throughout the year, weekly during the season and monthly during the offseason, and these issues are made available to PFW Online members in PDF format.
Since our electronic edition is always available by 7 p.m. ET on the day that it's published, it's your fastest way to get an issue of Pro Football Weekly.
You'll have access to everything in our print edition in the same familiar look and feel, plus a fully-searchable and easy way to enjoy it.