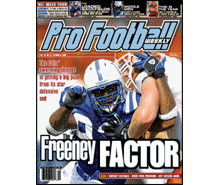 PFW Online: Vol. 20, Issue 12
Published: 2005-09-26
Cover Date: October 3, 2005
This is the issue for Week Four previews and Week Three game coverage.
He's in a rush to be the best
Dwight Freeney is rapidly emerging as one of the top defensive playmakers in the NFL. His presence on the surprisingly tight Colts defense has helped elevate the production of his teammates.
Nearly half of the league's teams are "stacked" at the RB position, meaning they have multiple weapons to use out of the backfield. Also, what's in store for next year's free-agent rushers?
King of the jungle
Carson Palmer is leading an up-and-coming Bengals offense that has fans in Paul Brown Stadium thinking playoffs for the first time in a long time.
Big Daddy and Big Baby
The pairing of Dan Wilkinson and Shaun Rogers gives the Lions one of the NFL's top tackle tandems.
Columnists
Trent Modglin
Jerry Magee
Don Pierson
Barry Jackson
Departments
The Way We Hear It
Handicapper's Corner
Week Four game previews
Scout's Notebook: Bengals WR T.J. Houshmandzadeh
Week Three game coverage: NFL standings; Game-day review; Players of the Week; Power rankings; Teams on the rise and decline
Game statistics
Individual statistics
NFL team statistics
NFL team rankings
The Fantasy Buzz
Key college game and notes
NFList: Most improved quarterbacks
Audibles
Canadian Football League
NFL transactions
PFW Slant with Dan Arkush
PFW Online
PFW Online is the electronic version of our Pro Football Weekly print newsmagazine.
We publish 30 issues throughout the year, weekly during the season and monthly during the offseason, and these issues are made available to PFW Online members in PDF format.
Since our electronic edition is always available by 7 p.m. ET on the day that it's published, it's your fastest way to get an issue of Pro Football Weekly.
You'll have access to everything in our print edition in the same familiar look and feel, plus a fully-searchable and easy way to enjoy it.