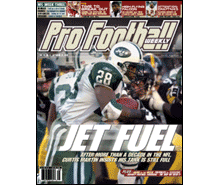 PFW Online: Vol. 20, Issue 11
Published: 2005-09-19
Cover Date: September 26, 2005
This is the issue for Week Three previews and Week Two game coverage.
Unheralded Martin keeps marching on
You won't see him starring in many commercials. You won't hear him spouting off on sports-talk radio. Nevertheless, Curtis Martin is running his way into the record books. Meet the NFL's most underrated all-time great.
Year Three
It's often said that players take their biggest leap forward between their rookie and second seasons. For receivers, it often takes until their third year. Check out the wideouts expected to raise their level of play in 2005.
Game of the Week
The Patriots return to the site of the 2004 AFC championship game, where they will face the Steelers in this week's marquee matchup.
Fantasy Buzz
Get the analysis and matchup advice to help field a winning fantasy football team in this week's installment of "The Buzz."
Columnists
Eric Edholm
Jerry Magee
Bill Wallace
Reggie Rivers
Departments
The Way We Hear It
Handicapper's Corner
Week Three game previews
Scout's Notebook: Raiders RB LaMont Jordan
Q&A with Falcons RB Warrick Dunn
Ask the Experts: Which fantasy player do you
wish you would have drafted?
Week Two game coverage: NFL standings; Game-day review; Players of the Week; Power rankings; Teams on the rise and decline
Week Two game statistics
Individual statistics
NFL team statistics
NFL team rankings
Key college game and notes
NFList: The best defensive lines
Audibles
Canadian Football League
NFL transactions
PFW Slant with Nolan Nawrocki
PFW Online
PFW Online is the electronic version of our Pro Football Weekly print newsmagazine.
We publish 30 issues throughout the year, weekly during the season and monthly during the offseason, and these issues are made available to PFW Online members in PDF format.
Since our electronic edition is always available by 7 p.m. ET on the day that it's published, it's your fastest way to get an issue of Pro Football Weekly.
You'll have access to everything in our print edition in the same familiar look and feel, plus a fully-searchable and easy way to enjoy it.