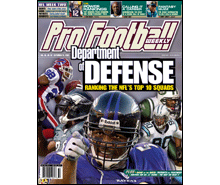 PFW Online: Vol. 20, Issue 10
Published: 2005-09-12
Cover Date: September 19, 2005
This is the issue for Week Two previews and Week One game coverage.
Defensive measures
Stopping the run. Limiting passing yardage. Recording sacks. Forcing fumbles. Making interceptions. Stopping opponents in the red zone. Those were key factors in PFW's ranking of the NFL's top 10 defenses.
A legend walks away
After 20 magnificent seasons in the NFL, Jerry Rice has decided to retire rather than play a bit role with the Broncos. We take a look back at his Hall of Fame career.
Game of the Week
In a rematch of Super Bowl XXXVIII, the Patriots and Panthers continue their quest to make it back to the NFL's championship game.
Scouting the pro prospects
Nolan Nawrocki breaks down the players in the Tennessee-Florida game who are being eyed by the NFL scouts.
Columnists
Trent Modglin
Jerry Magee
Barry Jackson
Jim Campbell
Departments
The Way We Hear It
Handicapper's Corner
Week Two game previews
Scout's Notebook: Bengals QB Carson Palmer
Fantasy Buzz
NFL transactions
Week One game coverage: NFL standings; Game-day review; Players of the Week; Power rankings; Teams on the rise and decline
Week One game statistics
Individual statistics
NFL team statistics
NFL team rankings
NFL rosters
NFList: Impact rookies
Audibles
Canadian Football League
PFW Slant with Dan Arkush
PFW Online
PFW Online is the electronic version of our Pro Football Weekly print newsmagazine.
We publish 30 issues throughout the year, weekly during the season and monthly during the offseason, and these issues are made available to PFW Online members in PDF format.
Since our electronic edition is always available by 7 p.m. ET on the day that it's published, it's your fastest way to get an issue of Pro Football Weekly.
You'll have access to everything in our print edition in the same familiar look and feel, plus a fully-searchable and easy way to enjoy it.