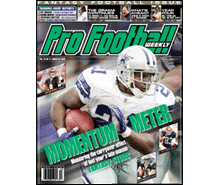 PFW Online: Vol. 20, Issue 08
Published: 2005-08-22
Cover Date: August 29, 2005
This is the third fantasy football issue of the season and the second installment of training-camp reports.
The Buzz
10-team mock draft with analysis
Feature: Carryover effect
2005 draft board
Auction-league price list
Ask the Fantasy Doctor
Eric Edholm commentary
Spotlight on fourth-year QBs
While it's not quite "now-or-never" time for David Carr, Joey Harrington and Patrick Ramsey, coaches and fans in Houston, Detroit and Washington are anxious to see these former first-round quarterbacks take the next step.
Job security is on the line
After an offseason in which there were only three head-coaching changes, there are several teams with sideline leaders who could be facing crucial seasons.
Training-camp capsules
We identify each team's strongest and weakest positions and suggest to you which veterans and rookies to keep a watchful eye on.
Preseason game coverage
The final scores may not matter, but you can still learn a lot from preseason contests. We take a glance at the action so far.
Columnists
Jerry Magee
Don Pierson
Barry Jackson
Departments
The Way We Hear It
2005 preseason All-America checklist
Audibles
NFL transactions
2004 and 2005 first-rounders' signings charts
CFL
PFW Slant with Dan Arkush
PFW Online
PFW Online is the electronic version of our Pro Football Weekly print newsmagazine.
We publish 30 issues throughout the year, weekly during the season and monthly during the offseason, and these issues are made available to PFW Online members in PDF format.
Since our electronic edition is always available by 7 p.m. ET on the day that it's published, it's your fastest way to get an issue of Pro Football Weekly.
You'll have access to everything in our print edition in the same familiar look and feel, plus a fully-searchable and easy way to enjoy it.