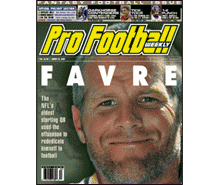 PFW Online: Vol. 20, Issue 07
Published: 2005-08-08
Cover Date: August 22, 2005
This is the second fantasy football issue of the season.
Fantasy football section
The Fantasy Buzz
Ask the Fantasy Doctor
Draft board
Eight burning questions
Players back from injury
Team defenses
Individual defensive players draft board
12-team mock draft
Skill-position value charts
Back 4 more
Soon to be 36 years of age, Brett Favre is the oldest starting quarterback in the NFL. But after commiting himself to a workout regime in the offseason — something he's skipped in recent years — Favre is in great shape and ready to take another shot at reaching the Super Bowl.
Another aging pass master
Trent Green is the second oldest starting quarterback in the NFL, and on an offense getting up in years, he senses the Chiefs' window of opportunity may be closing.
Meet the Vikes' new corner duo
With the addition of Fred Smoot, who now joins Antoine Winfield in the starting lineup, folks in Minnesota believe they have the top CB pairing in the NFL.
In search of Cinderella
PFW examines each of 2004's sub-.500 teams to see which franchise could surprise in 2005.
Columnists
Mike Wilkening
Jerry Magee
Ron Borges
Reggie Rivers
Departments
The Way We Hear It
Feature: Thirtysomething QBs
Feature: Humanitarian of the Year
Audibles
NFL transactions
2004 and 2005 first-rounders' signings charts
CFL
PFW Slant with Dan Arkush
PFW Online
PFW Online is the electronic version of our Pro Football Weekly print newsmagazine.
We publish 30 issues throughout the year, weekly during the season and monthly during the offseason, and these issues are made available to PFW Online members in PDF format.
Since our electronic edition is always available by 7 p.m. ET on the day that it's published, it's your fastest way to get an issue of Pro Football Weekly.
You'll have access to everything in our print edition in the same familiar look and feel, plus a fully-searchable and easy way to enjoy it.