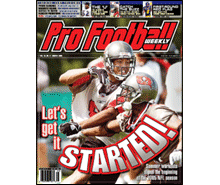 PFW Online: Vol. 20, Issue 06
Published: 2005-07-25
Cover Date: August 2005
This is the first installment of training-camp reports for this season.
2005 training-camp reports
The arrival of the dog days of summer means one thing to NFL fans — the opening of training camps. We take a spin around the league to look at the key issues facing each team as it prepares for the 2005 season.
The Hurricanes: We are family
Players who arrive in the NFL from Miami (Fla.) share an uncommon bond throughout their playing careers. Take a look into this unique fraternity of pro athletes.
Hot fantasy football facts
Get the latest fantasy news and rumors from around the league in the latest installment of 'The Buzz.' Reading it will give you a leg up on the competition.
Jacksonville's pro football franchise may not be long for the state of Florida if the team isn't able to improve its financial situation.
Columnists
Barry Jackson
Mike Holbrook
Bob Carroll
Departments
The Way We Hear It
Preseason power rankings
Pro Football Hall of Fame capsules: Looking at the Class of 2005
Fantasy draft board
Ask the Experts: What is your prediction for who will be the 2005 NFL MVP?
Free-agency update
Where are they now? Catching up with Joe Montana
Canadian Football League
Audibles
PFW Slant with Dan Arkush
NFL transactions
2004 and 2005 first-rounders' signing charts
PFW Online
PFW Online is the electronic version of our Pro Football Weekly print newsmagazine.
We publish 30 issues throughout the year, weekly during the season and monthly during the offseason, and these issues are made available to PFW Online members in PDF format.
Since our electronic edition is always available by 7 p.m. ET on the day that it's published, it's your fastest way to get an issue of Pro Football Weekly.
You'll have access to everything in our print edition in the same familiar look and feel, plus a fully-searchable and easy way to enjoy it.