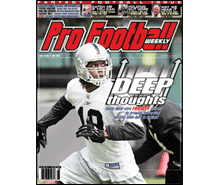 PFW Online: Vol. 20, Issue 05
Published: 2005-06-27
Cover Date: July 2005
This is the first fantasy football issue of the season.
Fantasy football section
Player reports
Ask the experts
Draft board
The Buzz
2004 fantasy statistics
Mind over matter: Martz not worried about measuring up
Though a growing number of critics might say otherwise, Rams head coach Mike Martz's record says he's much more than a master of the chalkboard.
The threat of contract holdouts has grabbed headlines this offseason. Mike Wilkening looks at this controversial negotiating tactic.
Free-agency update
Which franchise players have yet to sign their tender offers?
Columnists
Ken Bikoff
Jerry Magee
Ron Borges
Glenn Dickey
Departments
The Way We Hear It
Arena Football
CFL
NFL Europe
Audibles
NFL transactions
The Slant with Dan Arkush
PFW Online
PFW Online is the electronic version of our Pro Football Weekly print newsmagazine.
We publish 30 issues throughout the year, weekly during the season and monthly during the offseason, and these issues are made available to PFW Online members in PDF format.
Since our electronic edition is always available by 7 p.m. ET on the day that it's published, it's your fastest way to get an issue of Pro Football Weekly.
You'll have access to everything in our print edition in the same familiar look and feel, plus a fully-searchable and easy way to enjoy it.