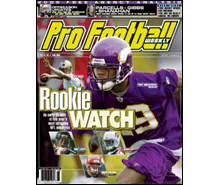 PFW Online: Vol. 20, Issue 04
Published: 2005-05-23
Cover Date: June 2005
This is the offseason team reports issue.
Rookies ready to make jump
Vikings WR Troy Williamson, Jaguars WR Matt Jones, Packers QB Aaron Rodgers and Jets PK Mike Nugent face high expectations and are among the most intriguing rookies in the class of 2005.
Offseason progress reports
We offer an in-depth look at each team's offseason moves, highlighted by the Raiders' trade for Randy Moss. What was accomplished? What work is left to do?
Legends still chasing dream
Multiple Super Bowl winners Joe Gibbs, Bill Parcells and Mike Shanahan are feeling the heat as they try to build title contenders.
Free-agency update
Check out PFW's list of offseason player movement; plus, where will Ty Law go?
Columnists
Jeff Reynolds
Barry Jackson
Don Pierson
Departments
The Way We Hear It
NFL Europe
Arena Football League
CFL season preview
Audibles
NFL transactions
The Slant with Dan Arkush
PFW Online
PFW Online is the electronic version of our Pro Football Weekly print newsmagazine.
We publish 30 issues throughout the year, weekly during the season and monthly during the offseason, and these issues are made available to PFW Online members in PDF format.
Since our electronic edition is always available by 7 p.m. ET on the day that it's published, it's your fastest way to get an issue of Pro Football Weekly.
You'll have access to everything in our print edition in the same familiar look and feel, plus a fully-searchable and easy way to enjoy it.