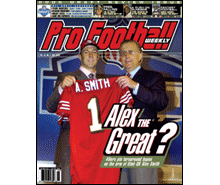 PFW Online: Vol. 20, Issue 03
Published: 2005-04-25
Cover Date: May 2005
This is the 2005 NFL post-draft issue.
2005 NFL draft review
Draft overview
Team-by-team analysis
Reaches and steals: Picked too soon, too late?
Ask the Experts: Which team had the best draft?
Draft Day report cards: Nolan Nawrocki's grades
Upon further review: Grading the 2002 draft
Round-by-round draft list
Final player printout
Draft list by position
2005 NFL schedules
Fantasy football: Impact rookies
Free-agency update
Columnists
Bill Wallace
Ron Borges
Jerry Magee
Reggie Rivers
Barry Jackson
Departments
The Way We Hear It
Arena Football
NFL Europe
Audibles
Transactions
The Slant
PFW Online
PFW Online is the electronic version of our Pro Football Weekly print newsmagazine.
We publish 30 issues throughout the year, weekly during the season and monthly during the offseason, and these issues are made available to PFW Online members in PDF format.
Since our electronic edition is always available by 7 p.m. ET on the day that it's published, it's your fastest way to get an issue of Pro Football Weekly.
You'll have access to everything in our print edition in the same familiar look and feel, plus a fully-searchable and easy way to enjoy it.