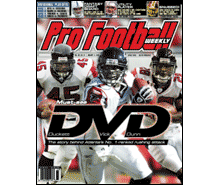 PFW Online: Vol. 19, Issue 27
Published: 2005-01-10
Cover Date: January 17, 2005
This is the issue for divisional playoff previews and wild-card game coverage.
Ground attack
The Falcons boasted the NFL's topranked rushing offense in 2004. Much of the success is due to the abilities of T.J. Duckett, Michael Vick and Warrick Dunn — also known as "DVD" to some. But don't underestimate the importance of the offensive linemen and their position coach, Alex Gibbs.
Offense, defense and special teams
New England's Troy Brown can do it all. Not only has he contributed in his usual role as a wideout and return specialist, but he has seen extended time at cornerback.
Experience matters
We take a look at the NFL head coaches who are former players. How does that experience help them now that they patrol the sidelines calling the shots?
Looking ahead
Check out an early version of the best fantasy football draft board in the business. After an incredible 2004 season, Peyton Manning debuts in the No. 1 spot.
Columnists
Tom Danyluk
Eric Edholm
Jerry Magee
Ron Borges
Don Pierson
Departments
The Way We Hear It
Feature: Pro Bowl voting critique
Fantasy football: 2004 All-Pro team
Q&A with Ravens head coach Brian Billick
Handicapper's Corner
Divisional playoff previews:

Jets at Steelers
Rams at Falcons
Vikings at Eagles
Colts at Patriots

Wild-card playoff coverage
Individual statistics
NFL team statistics
NFL team rankings
NFList: Best pass blockers
Audibles
2005 NFL draft order
NFL transactions
Scout's Notebook: Eagles CB Lito Sheppard
PFW Slant with Dan Arkush
PFW Online
PFW Online is the electronic version of our Pro Football Weekly print newsmagazine.
We publish 30 issues throughout the year, weekly during the season and monthly during the offseason, and these issues are made available to PFW Online members in PDF format.
Since our electronic edition is always available by 7 p.m. ET on the day that it's published, it's your fastest way to get an issue of Pro Football Weekly.
You'll have access to everything in our print edition in the same familiar look and feel, plus a fully-searchable and easy way to enjoy it.