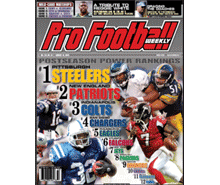 PFW Online: Vol. 19, Issue 26
Published: 2005-01-03
Cover Date: January 10, 2005
This is the issue for wild-card previews and Week 17 game coverage.
Kicking off the second season
We preview the playoffs in a special two-page spread, which includes our exclusive postseason power rankings, as well as analysis of the NFL's 12 teams vying for a shot at Super Bowl XXXIX in Jacksonville.
Remembering a legend
We pay tribute to Reggie White, a player who had an enormous impact on the league during a brilliant career. His peers from around the NFL share their memories in this retrospective.
Marty Schottenheimer, Bill Cowher and Bill Belichick all earn A's for their coaching jobs in 2004. But Mike Martz, Tom Coughlin and Dennis Erickson are another story altogether.
Fantasy football
Read this week's edition of the Fantasy Buzz, which will take a look at the playoffs with our helpful postseason draft board. We review the production of this year's top fantasy quarterbacks.
Columnists
Mike Wilkening
Glenn Dickey
Jerry Magee
Barry Jackson
Departments
The Way We Hear It
Handicapper's Corner
Wild-card game previews:

St. Louis at Seattle
N.Y. Jets at San Diego
Denver at Indianapolis
Minnesota at Green Bay

Week 17 game coverage: NFL standings; Game-day review; Players of the Week; Power rankings; Teams on the rise and decline
Week 17 game statistics
Fantasy statistics
Individual statistics
NFL team statistics
NFL team rankings
Audibles
NFL transactions
Scout's Notebook: Packers OT Chad Clifton
PFW Slant with Dan Arkush
PFW Online
PFW Online is the electronic version of our Pro Football Weekly print newsmagazine.
We publish 30 issues throughout the year, weekly during the season and monthly during the offseason, and these issues are made available to PFW Online members in PDF format.
Since our electronic edition is always available by 7 p.m. ET on the day that it's published, it's your fastest way to get an issue of Pro Football Weekly.
You'll have access to everything in our print edition in the same familiar look and feel, plus a fully-searchable and easy way to enjoy it.