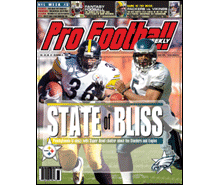 PFW Online: Vol. 19, Issue 24
Published: 2004-12-20
Cover Date: December 27, 2004
This is the issue for Week 16 previews and Week 15 game coverage.
The pride of Pennsylvania
The Keystone State is full of bravado this football season, as two of the NFL's elite call Pennsylvania home. We look at whether the Steelers and Eagles have what it takes to exorcise some of their past title-game demons.
The Stretch Run
An examination of the NFL's hottest teams heading into the playoffs. Plus, an interview with Eagles CB Sheldon Brown and a listing of some lesser-known players who will make a difference in the postseason.
Game of the Week
The playoffs are on the line as the Packers travel to Minnesota to face the Vikings in a matchup that could ultimately decide the NFC North race.
Holiday gifts for all 32 NFL teams
Santa (a.k.a. Dan Arkush) lists what each team should receive for Christmas this year in "The Slant."
Columnists
Jerry Magee
Glenn Dickey
Barry Jackson
Jim Campbell
Departments
The Way We Hear It
Handicapper's Corner
Week 16 game previews
Scout's Notebook: Buccaneers QB Brian Griese
Feature: Nolan Nawrocki's college notebook
The Fantasy Buzz
Fantasy feature: Grading the WRs
Fantasy statistics
Week 15 game coverage: NFL standings; Game-day review; Players of the Week; Power rankings; Teams on the rise and decline
Week 15 game statistics
Individual statistics
NFL team statistics
NFL team rankings
College prospects feature: The top linebackers
NFList: Top GM candidates
Audibles
NFL transactions
PFW Online
PFW Online is the electronic version of our Pro Football Weekly print newsmagazine.
We publish 30 issues throughout the year, weekly during the season and monthly during the offseason, and these issues are made available to PFW Online members in PDF format.
Since our electronic edition is always available by 7 p.m. ET on the day that it's published, it's your fastest way to get an issue of Pro Football Weekly.
You'll have access to everything in our print edition in the same familiar look and feel, plus a fully-searchable and easy way to enjoy it.