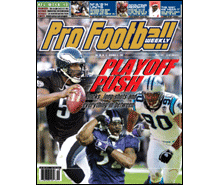 PFW Online: Vol. 19, Issue 22
Published: 2004-12-06
Cover Date: December 13, 2004
This is the issue for Week 14 previews and Week 13 game coverage.
The stretch run
With just four weeks remaining in the regular season, the dash for the postseason has begun. The way it stands now, more than half of the NFL's teams still harbor realistic playoff hopes. With that in mind, we take a stab at handicapping which teams are in the best position to move on.
Black-and-blue breakdown
We take a tour of the NFL's MASH units, ranking which teams have been hurt the most by injuries this season. Also, don't miss our All-Injury Team.
PFW Game of the Week
Two of the AFC's top teams — the Jets and Steelers — face off in a key Week 14 contest that will have significant postseason ramifications.
Fantasy football
Find out which players are hot — and which are not — in this edition of the Fantasy Buzz. Also, get this week's best matchups to exploit.
Columnists
Ken Bikoff
Jerry Magee
Glenn Dickey
Barry Jackson
Departments
The Way We Hear It
College prospects feature: The top offensive linemen
Handicapper's Corner
Week 14 game previews
Scout's Notebook: Cowboys TE Jason Witten
Week 13 game coverage: NFL standings; Game-day review; Players of the Week; Power rankings; Teams on the rise and decline.
Week 13 game statistics
Fantasy feature: Grading the kickers
Fantasy statistics
Individual statistics
NFL team statistics
NFL team rankings
NFList: Most improved offensive players
Audibles
NFL transactions
PFW Slant with Dan Arkush
PFW Online
PFW Online is the electronic version of our Pro Football Weekly print newsmagazine.
We publish 30 issues throughout the year, weekly during the season and monthly during the offseason, and these issues are made available to PFW Online members in PDF format.
Since our electronic edition is always available by 7 p.m. ET on the day that it's published, it's your fastest way to get an issue of Pro Football Weekly.
You'll have access to everything in our print edition in the same familiar look and feel, plus a fully-searchable and easy way to enjoy it.