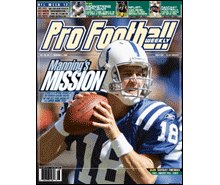 PFW Online: Vol. 19, Issue 21
Published: 2004-11-29
Cover Date: December 6, 2004
This is the issue for Week 13 previews and Week 12 game coverage.
Peyton's pace
After a six-touchdown performance in a Thanksgiving Day rout of the Lions, Peyton Manning has now thrown 41 TD passes on the season. While he's on pace to shatter Dan Marino's single-season record, Manning has loftier goals in mind — like winning a Super Bowl championship.
A taste of what's to come
Young and talented throughout, the Bears' defense is proving to be a unit worth watching. Could the "Monsters of the Midway" make a return in 2005?
Polling the fantasy experts
We asked some of the industry's foremost fantasy football personalities their thoughts on a variety of subjects. Their responses could help your team win.
Scouting the TE prospects
PFW personnel analyst Nolan Nawrocki breaks down the top tight ends expected to take their game to the NFL in 2005.
Columnists
Jerry Magee
Bill Wallace
Ron Borges
Reggie Rivers
Departments
The Way We Hear It
Handicapper's Corner
Week 13 game previews
Scout's Notebook: Texans WR Andre Johnson
Fantasy Buzz
Fantasy statistics
Week 12 game coverage: NFL standings; Game-day review; Players of the Week; Power rankings; Teams on the rise and decline
Week 12 game statistics
Individual statistics
NFL team statistics
NFL team rankings
Key college game
NFList
Audibles
NFL transactions

PFW Slant with Dan Arkush
PFW Online
PFW Online is the electronic version of our Pro Football Weekly print newsmagazine.
We publish 30 issues throughout the year, weekly during the season and monthly during the offseason, and these issues are made available to PFW Online members in PDF format.
Since our electronic edition is always available by 7 p.m. ET on the day that it's published, it's your fastest way to get an issue of Pro Football Weekly.
You'll have access to everything in our print edition in the same familiar look and feel, plus a fully-searchable and easy way to enjoy it.