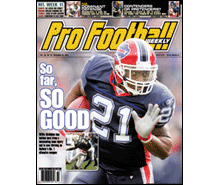 PFW Online: Vol. 19, Issue 20
Published: 2004-11-22
Cover Date: November 29, 2004
This is the issue for Week 12 previews and Week 11 game coverage.
When the Bills made Willis McGahee a first-round draft pick, there were many skeptics. Considering the knee injury he was attempting to overcome, there were no promises he would regain top form. Less than two years later, McGahee is emerging as Buffalo's top offensive weapon.
One of the few things that Redskins fans can smile about these days is Gregg Williams' aggressive defense, which has been ranked near the top of the NFL for much of 2004.
Real or fraudulent?
A few teams appear to be locks for the playoffs. But what about that second tier of potential playoff teams? Are they contenders? Or are they pretenders?
Scouting the WR prospects
PFW personnel analyst Nolan Nawrocki breaks down the top pass catchers expected to make an impact in the NFL next year.
Columnists
Eric Edholm
Jerry Magee
Glenn Dickey
Bob Carroll
Departments
The Way We Hear It
Handicapper's Corner
Week 12 game previews
Scout's Notebook: Seahawks OG Steve Hutchinson
The Fantasy Buzz
Fantasy feature
Fantasy statistics
Week 11 game coverage: NFL standings; Game-day reviews; Players of the Week; Power rankings; Teams on the rise and decline
Week 11 game statistics
Individual statistics
NFL team statistics
NFL team rankings
Key college game
NFList: Hot coaching candidates
Audibles
Canadian Football League
NFL transactions
PFW Slant with Dan Arkush
PFW Online
PFW Online is the electronic version of our Pro Football Weekly print newsmagazine.
We publish 30 issues throughout the year, weekly during the season and monthly during the offseason, and these issues are made available to PFW Online members in PDF format.
Since our electronic edition is always available by 7 p.m. ET on the day that it's published, it's your fastest way to get an issue of Pro Football Weekly.
You'll have access to everything in our print edition in the same familiar look and feel, plus a fully-searchable and easy way to enjoy it.