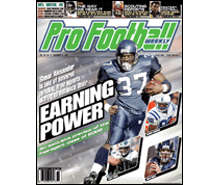 PFW Online: Vol. 19, Issue 19
Published: 2004-11-15
Cover Date: November 22, 2004
This is the issue for Week 11 previews and Week 10 game coverage.
2005 free-agent sneak preview
We know that the 2004 season is only half over, with weeks of regular-season and playoff action on the way. But is there a better time to start evaluating which players could help your favorite team for next season? We didn't think so. We present exclusive team-by-team insight into what may happen in free agency next spring, plus a position-by-position list of which players are slated to hit the market.
QBs on the comeback trail
Drew Brees and Kurt Warner have each been integral parts of their teams' success, all the while holding off hot young QB prospects in San Diego and New York.
CBS, FOX retain NFL TV rights
While two broadcast networks agreed to six-year contract extensions with the NFL, Barry Jackson says there are still several unanswered questions.
Cedric Benson leads the way
Nolan Nawrocki provides a scout's perspective on the top RB prospects expected to be available in the 2005 NFL draft.
Columnists
Jeff Reynolds
Ron Borges
Barry Jackson
Departments
The Way We Hear It
Handicapper's Corner
Week 11 game previews
Scout's Notebook: Patriots WR David Givens
The Fantasy Buzz
Fantasy feature
Fantasy statistics
Week 10 game coverage: NFL standings; Game-day review; Players of the Week; Power rankings; Teams on the rise and decline
Week 10 game statistics
Individual statistics
NFL team statistics
NFL team rankings
Key college game: Utah vs. BYU
NFList
Canadian Football League
NFL transactions
PFW Slant with Dan Arkush
PFW Online
PFW Online is the electronic version of our Pro Football Weekly print newsmagazine.
We publish 30 issues throughout the year, weekly during the season and monthly during the offseason, and these issues are made available to PFW Online members in PDF format.
Since our electronic edition is always available by 7 p.m. ET on the day that it's published, it's your fastest way to get an issue of Pro Football Weekly.
You'll have access to everything in our print edition in the same familiar look and feel, plus a fully-searchable and easy way to enjoy it.