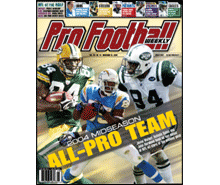 PFW Online: Vol. 19, Issue 18
Published: 2004-11-08
Cover Date: November 15, 2004
This is the Mid-season Awards issue with Week 10 previews and Week Nine game coverage.
Midseason All-Pro team
We have taken a look at the best of the best in the NFL through the first nine weeks and are proud to announce our annual all-star squad at the midpoint of the 2004 season.
On any given Sunday
In our midseason overview, Ken Bikoff takes a light-hearted yet analytical week-by-week look at what has happened in the NFL so far during the 2004 season.
How's your team shaping up?
We rank all 32 teams based on the PFW power rankings, and provide analysis of where each club is at halfway through the year.
Scouting the quarterbacks
Personnel analyst Nolan Nawrocki provides a scout's perspective on the top collegiate talent available at the QB position.
Columnists
Trent Modglin
Jerry Magee
Glenn Dickey
Barry Jackson
Departments
The Way We Hear It
Handicapper's Corner
Week 10 game previews
The Fantasy Buzz
Fantasy feature
Fantasy statistics
Week Nine game coverage: NFL standings; Game-day review; Players of the Week; Power rankings; Teams on the rise and decline
Week Nine game statistics
Scout's Notebook: Jets DT Dewayne Robertson
Individual statistics
NFL team statistics
NFL team rankings
NFList
Audibles
Canadian Football League
NFL transactions
PFW Slant with Dan Arkush
PFW Online
PFW Online is the electronic version of our Pro Football Weekly print newsmagazine.
We publish 30 issues throughout the year, weekly during the season and monthly during the offseason, and these issues are made available to PFW Online members in PDF format.
Since our electronic edition is always available by 7 p.m. ET on the day that it's published, it's your fastest way to get an issue of Pro Football Weekly.
You'll have access to everything in our print edition in the same familiar look and feel, plus a fully-searchable and easy way to enjoy it.