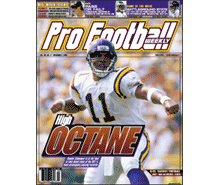 PFW Online: Vol. 19, Issue 17
Published: 2004-11-01
Cover Date: November 8, 2004
This is the issue for Week Nine previews and Week Eight game coverage.
If it's not one cliché — how about Daunte's inferno? — it's another. But after all the hyperbole, one thing is abundantly clear: Daunte Culpepper is clipping along at a pace that could lead to NFL records being shattered.
First year on the job
The seven head coaches working their way through Year One with their new teams have enjoyed varying degrees of success. We look ahead to see what the future might hold.
Game of the Week
The Eagles are the NFL's only remaining undefeated team. The Steelers knocked off the previously unbeaten Patriots last week. They face off in Week Nine's Game of the Week.
Ask the experts
Which potential-packed fantasy players are going to explode in the second half of the season? Read this to find out.
Mike Wilkening
Jerry Magee
Reggie Rivers
Bill Wallace
Ron Borges
Departments
The Way We Hear It
Key college game: Miami (Fla.) at Clemson
Handicapper's Corner
Week Nine game previews
Scout's Notebook: Saints DE Charles Grant
Q&A with Vikings college scouting director Scott Studwell
The Fantasy Buzz
Fantasy statistics
Week Eight game coverage: NFL standings; Game-day reviews; Players of the Week; Power rankings; Teams on the rise and decline
Week Eight game statistics
Individual statistics
NFL team statistics
NFL team rankings
NFList
Audibles
Canadian Football League
NFL transactions
PFW Slant with Dan Arkush
PFW Online
PFW Online is the electronic version of our Pro Football Weekly print newsmagazine.
We publish 30 issues throughout the year, weekly during the season and monthly during the offseason, and these issues are made available to PFW Online members in PDF format.
Since our electronic edition is always available by 7 p.m. ET on the day that it's published, it's your fastest way to get an issue of Pro Football Weekly.
You'll have access to everything in our print edition in the same familiar look and feel, plus a fully-searchable and easy way to enjoy it.