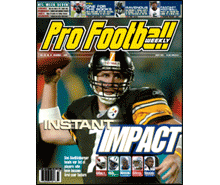 PFW Online: Vol. 19, Issue 16
Published: 2004-10-25
Cover Date: November 1, 2004
This is the issue for Week Eight previews and Week Seven game coverage.
Rookie watch
QB Ben Roethlisberger has provided a spark to the Steelers' offense earlier than expected, leading Pittsburgh to four wins in his first four pro starts. We take a closer look at "Big Ben," as well as 10 other firstyear players who are providing immediate contributions to their new teams.
Man on a mission
Thanks to a tireless work ethic and a will to succeed, Ravens defender Ed Reed is driven to become the best safety in the NFL.
Scouting the seniors
Draft analyst Nolan Nawrocki provides a scout's perspective on the pro prospects playing in the California-Arizona State game.
Getting there is half the fun
How do teams plan a road trip? Take a behind-the-scenes look at what NFL clubs have to do to make road trips go smoothly.
Columnists
Jerry Magee
Glenn Dickey
Barry Jackson
Jim Campbell
Departments
The Way We Hear It
Handicapper's Corner
Week Eight game previews
The Fantasy Buzz
Fantasy feature
Fantasy statistics
Week Seven game coverage: NFL standings; Game-day review; Players of the Week; Power rankings; Teams on the rise and decline
Week Seven game statistics
Scout's Notebook: Bucs WR Michael Clayton
Individual statistics
NFL team statistics
NFL team rankings
NFList
Audibles
Canadian Football League
NFL transactions
PFW Slant with Dan Arkush
PFW Online
PFW Online is the electronic version of our Pro Football Weekly print newsmagazine.
We publish 30 issues throughout the year, weekly during the season and monthly during the offseason, and these issues are made available to PFW Online members in PDF format.
Since our electronic edition is always available by 7 p.m. ET on the day that it's published, it's your fastest way to get an issue of Pro Football Weekly.
You'll have access to everything in our print edition in the same familiar look and feel, plus a fully-searchable and easy way to enjoy it.