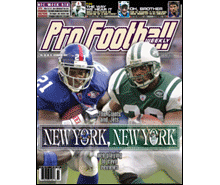 PFW Online: Vol. 19, Issue 15
Published: 2004-10-18
Cover Date: October 25, 2004
This is the issue for Week Seven previews and Week Six game coverage.
Big Apple abuzz about Giants, Jets
No NFL pundits predicted that both New York franchises would be sitting this pretty six weeks into the season. We offer five reasons for optimism for the Giants and Jets, who are starting to look like legitimate playoff contenders.
Big-league brothers
The NFL has numerous sibling pairings — from the Manning brothers to the McCowns. We explore the unique bond between brothers who make it into the league.
Scouting the pro prospects
Nolan Nawrocki takes an in-depth look at the key players that NFL scouts are tracking closely in the Notre Dame-Boston College matchup.
Fantasy sleepers
How have they fared? And more importantly, which ones are going to be the biggest help to your roster the rest of the season?
Columnists
Mike Holbrook
Jerry Magee
Ron Borges
Don Pierson
Departments
The Way We Hear It
Handicapper's Corner
Week Seven game previews
Scout's Notebook: Giants RB Tiki Barber
The Fantasy Buzz
Fantasy statistics
Week Six game coverage: NFL standings; Game-day review; Players of the Week; Power rankings; Teams on the rise and decline
Individual statistics
NFL team statistics
NFL team rankings
NFList: The best No. 2 wideouts
NFL transactions
Audibles
Canadian Football League
PFW Slant with Dan Arkush
PFW Online
PFW Online is the electronic version of our Pro Football Weekly print newsmagazine.
We publish 30 issues throughout the year, weekly during the season and monthly during the offseason, and these issues are made available to PFW Online members in PDF format.
Since our electronic edition is always available by 7 p.m. ET on the day that it's published, it's your fastest way to get an issue of Pro Football Weekly.
You'll have access to everything in our print edition in the same familiar look and feel, plus a fully-searchable and easy way to enjoy it.