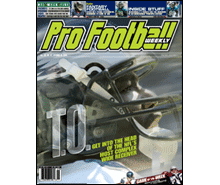 PFW Online: Vol. 19, Issue 14
Published: 2004-10-11
Cover Date: October 18, 2004
This is the issue for Week Six previews and Week Five game coverage.
T.O. taking flight in Philly
When the Eagles traded for controversial WR Terrell Owens, many observers didn't know what to expect. But to date, the enigmatic pass catcher is settling in with his new team quite nicely.
Building blocks
The DT tandem of Marcus Stroud and John Henderson gives the Jaguars a pair of young players around whom to build a potentially dominant defense.
PFW's Game of the Week
A preview of Super Bowl XXXIX? Let's not get ahead of ourselves. But the Patriots-Seahawks matchup features a pair of the NFL's elite teams.
Power rankings
Learn which teams are the best of the best, and which are the worst of the worst, as the PFW editors rank the NFL clubs from 1 to 32.
Columnists
Ken Bikoff
Jerry Magee
Glenn Dickey
Barry Jackson
Departments
The Way We Hear It
Key college game: Virginia vs. Florida State
Handicapper's Corner
Week Six game previews
The Fantasy Buzz
Fantasy statistics
Week Five game coverage: NFL standings; Game-day review; Players of the Week; Power rankings; Teams on the rise and decline
Week Five game statistics
Individual statistics
NFL team statistics
NFL team rankings
Scouting philosophy Q&A with Eagles president Joe Banner
NFList: Best special teams
Audibles
CFL coverage
NFL transactions
Scout's Notebook: Falcons DE Patrick Kerney
PFW Slant with Dan Arkush
PFW Online
PFW Online is the electronic version of our Pro Football Weekly print newsmagazine.
We publish 30 issues throughout the year, weekly during the season and monthly during the offseason, and these issues are made available to PFW Online members in PDF format.
Since our electronic edition is always available by 7 p.m. ET on the day that it's published, it's your fastest way to get an issue of Pro Football Weekly.
You'll have access to everything in our print edition in the same familiar look and feel, plus a fully-searchable and easy way to enjoy it.