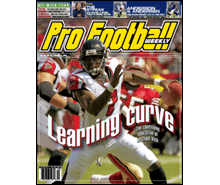 PFW Online: Vol. 19, Issue 13
Published: 2004-10-04
Cover Date: October 11, 2004
This is the issue for Week Five previews and Week Four game coverage.
Michael Vick's fall semester
Hailed as the next big thing coming out of Virginia Tech four years ago, the Falcons' star quarterback continues to develop. In a new offense under a new coaching staff, Vick is showing signs he could fulfill his grand potential.
Still getting their kicks
Well into their 40s, placekickers Gary Anderson and Morten Andersen continue to defy Father Time, all the while racking up points for their playoff-caliber teams.
Previewing the pro prospects
Get a scout's perspective of the players participating in this week's key college game — Ohio State vs. Wisconsin.
Fantasy football
We break down how our top-rated starting quarterbacks have fared so far — and size up their prospects for the rest of the season.
Columnists
Jerry Magee
Bill Wallace
Ron Borges
Reggie Rivers
Departments
The Way We Hear It
Handicapper's Corner
Week Five game previews
Scout's Notebook: Jets RB Curtis Martin
Week Four game coverage: NFL standings; Game-day review; Players of the Week; Power rankings; Teams on the rise and decline
Week Four game statistics
Individual statistics
NFL team statistics
NFL team rankings
Fantasy Buzz
Fantasy statistics
NFList: Underrated cornerbacks
Audibles
Canadian Football League
NFL transactions
PFW Slant with Dan Arkush
PFW Online
PFW Online is the electronic version of our Pro Football Weekly print newsmagazine.
We publish 30 issues throughout the year, weekly during the season and monthly during the offseason, and these issues are made available to PFW Online members in PDF format.
Since our electronic edition is always available by 7 p.m. ET on the day that it's published, it's your fastest way to get an issue of Pro Football Weekly.
You'll have access to everything in our print edition in the same familiar look and feel, plus a fully-searchable and easy way to enjoy it.