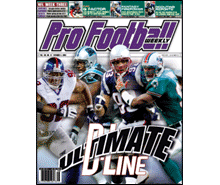 PFW Online: Vol. 19, Issue 12
Published: 2004-09-27
Cover Date: October 4, 2004
This is the issue for Week Four previews and Week Three game coverage.
Trench warfare
In the second part of our two-part series on life along the line, we take a look at the men on the defensive side of the ball. We name the five best D-lines in the NFL, and Jeff Reynolds constructs the "Ultimate Defensive Line," choosing the four best players at their respective positions.
Déjà vu
Once again, the Broncos believe they have found the next great NFL running back. This time around, his name is Quentin Griffin. Get to know him — NFL defenses are.
NFC South showdown
Carolina hosts Atlanta in what will be a key divisional battle. While it's still early, our Game of the Week could go a long way in determining how things shake out in the South.
Scouting philosophy
GM Ozzie Newsome provides insight into how the Ravens have been so adept at identifying and acquiring the right personnel.
Columnists
Jerry Magee
Glenn Dickey
Barry Jackson
Bob Carroll
Departments
The Way We Hear It
Handicapper's Corner
Week Four game previews
Scout's Notebook: Falcons TE Alge Crumpler
Week Three game coverage: NFL standings; Game-day review; Players of the Week; Power rankings; Teams on the rise and decline
Week Three game statistics
Individual statistics
NFL team statistics
NFL team rankings
Key college game: Auburn at Tennessee
The Fantasy Buzz
Ask the Experts
NFList: The league's deepest teams
Audibles
Canadian Football League
NFL transactions
PFW Slant with Dan Arkush
PFW Online
PFW Online is the electronic version of our Pro Football Weekly print newsmagazine.
We publish 30 issues throughout the year, weekly during the season and monthly during the offseason, and these issues are made available to PFW Online members in PDF format.
Since our electronic edition is always available by 7 p.m. ET on the day that it's published, it's your fastest way to get an issue of Pro Football Weekly.
You'll have access to everything in our print edition in the same familiar look and feel, plus a fully-searchable and easy way to enjoy it.