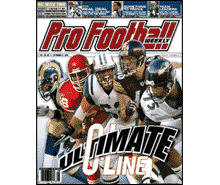 PFW Online: Vol. 19, Issue 11
Published: 2004-09-20
Cover Date: September 27, 2004
This is the issue for Week Three previews and Week Two game coverage.
In the trenches
Get down and dirty as we look at life on the line. In this package, we highlight the NFL's top five OL units, with Green Bay taking top prize. Also, Jeff Reynolds builds the "Ultimate Offensive Line" — choosing the five best linemen at their respective positions.
Cajun being cut loose
Jake Delhomme is no longer on a short leash in Carolina. He earned the trust of the Panthers' coaching staff and is getting a chance to operate a less-conservative attack.
Does leadership lead to success?
PFW analyzes the leadership situation of every NFL team, letting a panel of league insiders rank the best to the worst.
Scouting the Big Ten
Read our key college game to get a scout's perspective on the pro prospects playing in the Iowa-Michigan matchup.
Columnists
Eric Edholm
Jerry Magee
Ron Borges
Departments
The Way We Hear It
Handicapper's Corner
Week Three game previews
Scout's Notebook: Jaguars DT Marcus Stroud
Week Two game coverage: NFL standings; Game-day review; Players of the Week; Power rankings; Teams on the rise and decline
Week Two game statistics
Individual statistics
NFL team statistics
NFL team rankings
NFList: The NFL's deepest teams
Audibles
The Fantasy Buzz
Canadian Football League
NFL transactions
PFW Slant with Dan Arkush
PFW Online
PFW Online is the electronic version of our Pro Football Weekly print newsmagazine.
We publish 30 issues throughout the year, weekly during the season and monthly during the offseason, and these issues are made available to PFW Online members in PDF format.
Since our electronic edition is always available by 7 p.m. ET on the day that it's published, it's your fastest way to get an issue of Pro Football Weekly.
You'll have access to everything in our print edition in the same familiar look and feel, plus a fully-searchable and easy way to enjoy it.