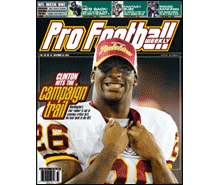 PFW Online: Vol. 19, Issue 10
Published: 2004-09-13
Cover Date: September 20, 2004
This is the issue for Week Two previews and Week One game coverage.
Making his case for No. 1
Clinton Portis got the trade and the monster contract that he wanted. Now, he simply wants to be known as the NFL's best running back. He intends to change the minds of his doubters during his first season in Washington.
Encore presentation
Deion Sanders retired as a player three years ago. But he has now returned to the field as a member of the Ravens. What will he bring to an already loaded defense?
Fantasy buzz
Take a look back at what happened in Week One, and what it means for Week Two and beyond. We offer matchups to exploit and tips to help tweak your fantasy lineup.
A scout's perspective
Our Q&A with Titans general manager Floyd Reese offers insight into what NFL scouts look for in players.
Columnists
Jeff Reynolds
Trent Modglin
Jerry Magee
Glenn Dickey
Barry Jackson
Departments
The Way We Hear It
Key college game: Oregon at Oklahoma
Handicapper's Corner
Week Two game previews
Scout's Notebook: Broncos QB Jake Plummer
Fantasy football: Analysis of PFW's draft
Week One game coverage: NFL standings; Game-day review; Players of the Week; Power rankings; Teams on the rise and decline
Week One game statistics
Individual statistics
NFL team statistics
NFL team rankings
News feature: National Scouting search
NFL rosters
NFList: The best teams to work for
Audibles
NFL transactions
Canadian Football League
PFW Slant with Dan Arkush
PFW Online
PFW Online is the electronic version of our Pro Football Weekly print newsmagazine.
We publish 30 issues throughout the year, weekly during the season and monthly during the offseason, and these issues are made available to PFW Online members in PDF format.
Since our electronic edition is always available by 7 p.m. ET on the day that it's published, it's your fastest way to get an issue of Pro Football Weekly.
You'll have access to everything in our print edition in the same familiar look and feel, plus a fully-searchable and easy way to enjoy it.