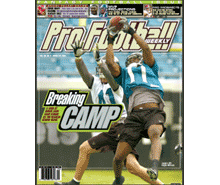 PFW Online: Vol. 19, Issue 08
Published: 2004-08-23
Cover Date: August 30, 2004
This is the third fantasy football issue of the season and the third installment of training-camp reports.
The Buzz
Mock draft with commentary
2004 draft board
Auction-league price list
Ask the Fantasy Doctor
Feature: No. 2 wide receivers
Column: Fantasy conventions
NFL players on fantasy
The regular season nears
In our final leaguewide tour as training camps wrap up, we highlight each team's biggest positive and biggest disappointment, provide an injury update and identify a rookie to watch.
MVP projections
We gaze into our crystal ball and predict offensive and defensive MVPs for every team.
Let the college scouting begin
In our first installment of "Key College Games," Nolan Nawrocki analyzes the potential of the pro prospects playing in the USC-Virginia Tech matchup.
Columnists
Jerry Magee
Glenn Dickey
Barry Jackson
Jim Campbell
Departments
The Way We Hear It
Preseason power rankings
Preseason game coverage
First-rounders' signing chart
Audibles
NFL transactions
Canadian Football League
PFW Slant with Dan Arkush
PFW Online
PFW Online is the electronic version of our Pro Football Weekly print newsmagazine.
We publish 30 issues throughout the year, weekly during the season and monthly during the offseason, and these issues are made available to PFW Online members in PDF format.
Since our electronic edition is always available by 7 p.m. ET on the day that it's published, it's your fastest way to get an issue of Pro Football Weekly.
You'll have access to everything in our print edition in the same familiar look and feel, plus a fully-searchable and easy way to enjoy it.